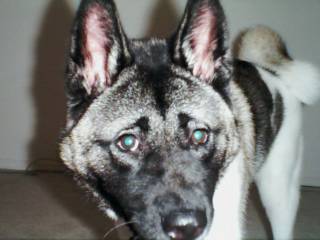 You know, since I've been called to the ministry, I've come to realize a few things. A person in the ministry is called to a different standard of life, not any better of a life, not a "holier than thou" type of life, just different. A life that's not "normal." You can't just marry any girl, the Lord has to be leading her in the same way. I also know that I want to be real with people and unlike the stereotype that many preachers have brought to the world, good or bad.
I subconsciously made a pact, that if I ever had kids, I wouldn't incorporate them into all my messages. I would not talk about the family for every illustration. Well this post is a slap in the face of that. Right now, I can't use a girlfriend for an example, I could use a dog, well I don't have one but my roommate does.
This animal entered into our house a few months back, I've watched her grow from this small puppy, to this big dog. So big now that if she jumps in your lap, you will question your ability to have kids. She's huge. I've learned a lesson about life through a dog. My roomie works a lot and I spend a lot of time alone with the animal. When I walk in the door, the dog about goes nuts to see me. She literally does not want to eat, only cares about being hugged and petted. She doesn't even want to go outside to pee, she cares only for you. When I eat, she sits at my feet, waiting on crumbs to fall. She follows me from room to room, only to lay right back at my feet again. She will do something mean, (like chew my $$ dress shoes) and i scold her, only to find her 5 minutes later, back at my feet, always staring intently, even for crushed ice to fall from my mouth, so she can eat it up! Nasty! but anyway.
I started thinking about my relationship with the Lord. I was sitting at the table with a Zaxby's kickin chicken sandwich in my hand, just watching this dog stare at me. I rarely follow the Lord like this dog follows me. How often do I lay at His feet, after this life has scolded me. How often do I sit under Him at His table, waiting for something to fall from His hand. How often do I sacrifice my wants, my needs, to spend time with Him? It's rare. I'm stuck in this Romans 7 tongue twister life. I want to do what is right, I want to seek Him, but I often don't. My sin strangles the life from me. I hear you Paul!
Just like this post, the thing I never wanted to do, I have just done. Told a story though a dog. Kiki Peaky is her name. At least that's what I renamed her. Hey! Jesus renamed His friends, aren't we supposed to do the same? Just a thought. :)